Activities on and around De Parel
With us, everything revolves around memorable moments. Explore nature with our forest ranger, experience water fun with stand-up paddleboarding, savor culinary delights with wine tastings, take part in athletic challenges like boules, and discover our park through our photo contest.
At Resort de Parel, we strive to provide an exceptional experience for every type of adventurer!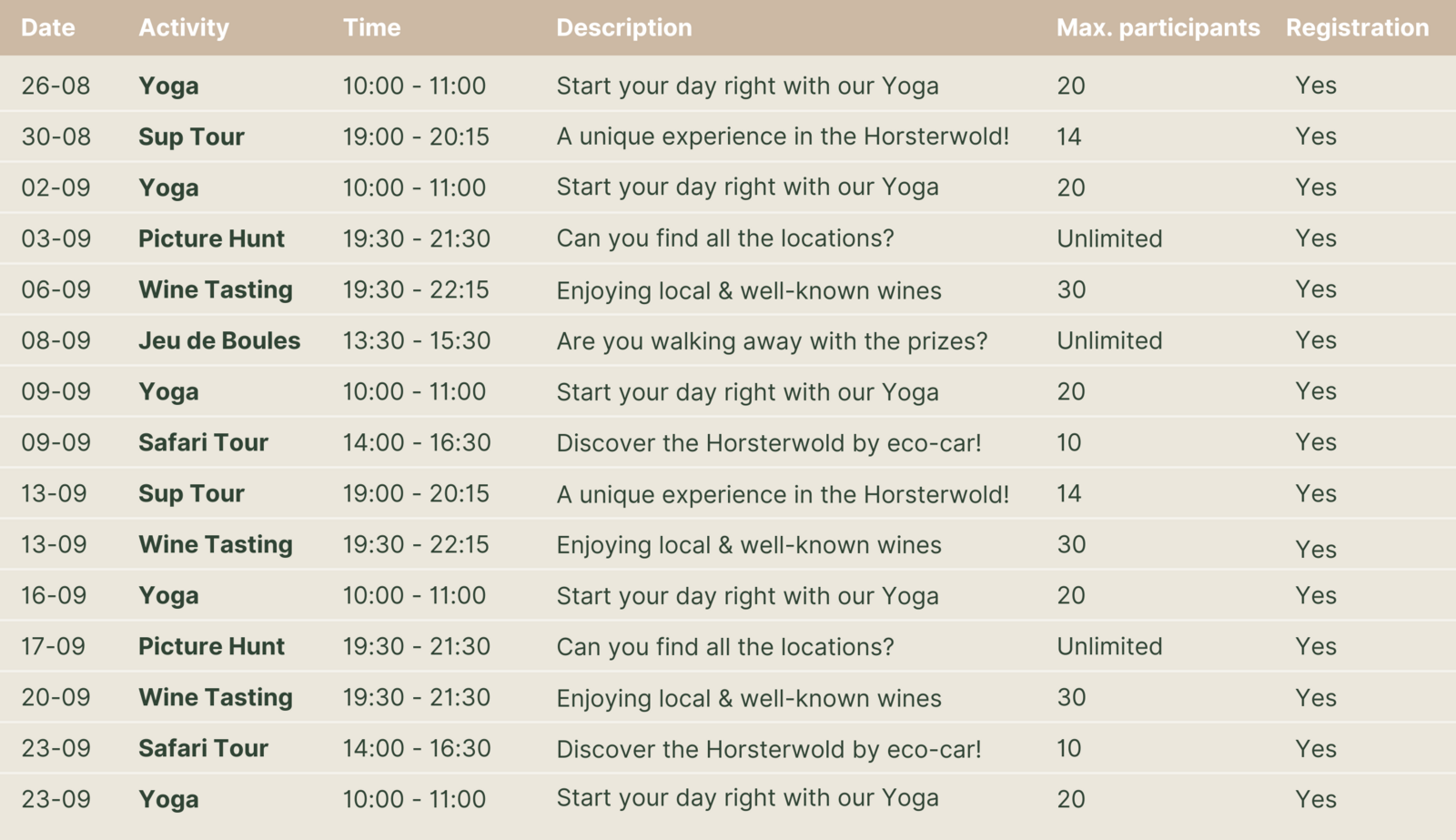 Ontdek diverse activiteiten tijdens je vakantie bij De Parel
Bij ons draait alles om gedenkwaardige momenten. Ervaar waterplezier tijdens het zwemmen of ga de uitdaging aan tijdens het stand-up paddleboarden. Proef culinaire geneugten in ons restaurant en geniet van de gezelligheid tijdens een wijnproeferij. Neem deel mee aan sportieve uitdagingen, zoals jeu de boules en volleybal, en ontdek ons park via onze fotowedstrijd. Ben je op vakantie met je kinderen? Bezoek Speelbos De Zevensprong waar je kunt klimmen, rennen en hutten bouwen. Er is voor iedereen wat te doen bij Resort de Parel!
De omgeving verkennen
Verken het omliggende natuurgebied 'het Horsterwold' tijdens een rustgevende wandeling door de prachtige natuur van Zeewolde. Goed oplettende wandelaars kunnen wellicht nog wilde paarden, reeën en damherten spotten. Na het wandelen nog niet uitgekeken op de prachtige omgeving? Neem deel aan een safaritocht met de boswachter en ontdek delen van het natuurgebied die je nog niet eerder hebt gezien!
Ga er ook een keer tussenuit naar de omliggende steden. Bezoek Harderwijk en bekijk de kleine honderd rijksmonumenten die de stad kent. Nabij Harderwijk vind je prachtige kastelen die zeker een bezoekje waard zijn, zoals kasteel Staverden en kasteel De Essenburgh. Zoek je meer actie? Leef je uit bij attractiepark Walibi Holland in Biddinghuizen. Ontdek alle verschillende attracties en beleef een gezellige dag uit met familie en vrienden.